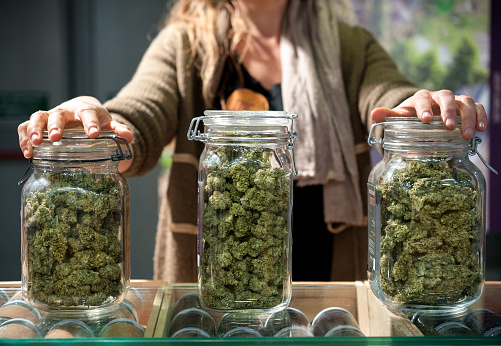 Everything You Need to Know About Weed Stores in Washington, DC
If you are looking to purchase cannabis products in Washington, DC, you might be wondering about the various options available to you. The good news is that many different weed stores in the city offer a unique selection of products and services. In this blog, we will cover everything you need to know about
weed stores in Washington, DC
, including the different types of stores, the Legalization of Marijuana in Washington, DC, and some tips for finding the best stores for your needs.
Legalization of Marijuana in Washington DC
In November 2014, in Washington, DC, residents voted to legalize marijuana for recreational use. However, the sale of marijuana was still prohibited, which led to a unique scenario in which it was legal to possess and consume cannabis but illegal to purchase. This created a gray area for cannabis enthusiasts who wanted to partake in the drug without breaking the law.
Several weed delivery services and pop-up events emerged in the city to combat this issue, offering residents a way to purchase marijuana without breaking the law. In 2019, however, the DC Council passed legislation that allowed for the sale of recreational marijuana in licensed dispensaries, making it easier for consumers to purchase cannabis products legally.
Types of Weed Stores in Washington DC
In Washington, DC, there are several types of weed stores. The most common types are:
DC Cannabis Stores - The city licenses these stores to sell cannabis products to adults over 21. They offer various products, including flowers, edibles, concentrates, and more. DC Cannabis Stores are typically the most popular option for purchasing cannabis products in the city.
Delivery Services - Many cannabis companies in DC offer delivery services, allowing you to order products online and deliver them directly to your door. Delivery services are often more convenient than visiting a physical store, but they may need more selection compared to a brick-and-mortar location.
Pop-Up Shops - Pop-up shops are temporary stores that sell cannabis products. These stores are usually advertised through social media and may only be open for a few hours or days. Pop-up shops can be a fun way to try new products and meet other cannabis enthusiasts in the city.
Requirements to Purchase
To purchase products at the
DC Cannabis Store
, customers must be over 21 and have a valid government-issued ID. The store does not accept out-of-state IDs, so customers must have a DC-issued ID or driver's license to make a purchase. In addition, customers are limited to purchasing up to one ounce of marijuana daily, which is in line with DC's laws regarding the possession and use of marijuana.
Prices
The prices of products at the DC Cannabis Store are reasonable and competitive with other dispensaries in the city. The cost of products varies depending on the type and quantity, but customers can expect to pay between $10 and $60 for most products.
Tips for Finding the Best Weed Stores in Washington DC
If you are looking for the best weed stores in Washington DC, here are some tips to keep in mind:
Do Your Research: The first step to finding the best weed stores in Washington, DC, is your research. You can start by looking up the available weed stores in DC online. Most weed stores in DC have a website that provides information on their products, pricing, and location. You can also check online reviews to get an idea of the quality of service offered by different stores.
Check for License and Certification: It is crucial to purchase cannabis products from a licensed and certified weed store. Licensed stores adhere to state regulations and guidelines on the sale of marijuana, ensuring you get quality products. A certified store also guarantees that the products sold are lab-tested for quality and safety. Therefore, before purchasing cannabis products from any store, check for their license and certification.
Read Reviews: Before visiting any weed store, read reviews online. Reviews can give you a sense of the quality of the products and the customer service at a particular location.
Check the Product Variety: The best weed stores in Washington, DC, offer a wide range of products to cater to different needs and preferences. Whether you are looking for edibles, concentrates, flowers, or vape pens, the store should have a variety of options for you to choose from. Check the product range before making your purchase to ensure that you find what you are looking for.
Consider the Pricing: Pricing is a crucial factor to consider when purchasing cannabis products. You want to find a store that offers fair prices for its products. However, you should not compromise on quality for a lower price. Some stores may offer low prices but need better-quality products. Therefore, ensure that you balance quality and price to get the best value for your money.
Look for Discounts and Promotions: Some weed stores in Washington, DC, offer discounts and promotions on their products, especially to first-time customers. This can be a great way to save money while getting quality products. Check for such offers before making your purchase to get the best deal.
Check for Customer Service: A weed store's level of customer service can make a huge difference in your shopping experience. The best weed stores in Washington, DC, have knowledgeable and friendly staff who can help you choose the right products for your needs. They should also be able to answer any questions about their products. Therefore, before purchasing, assess the store's customer service level.
Conclusion
Washington, DC, has many different weed stores, each offering a unique selection of products and services. Whether you are looking for a licensed dispensary, a
delivery service
, or a pop-up shop, there is something for everyone in the city. Before purchasing any products, be sure to understand the legal landscape of cannabis in DC and do your research to find the best stores for your needs. With a little effort, you can find high-quality cannabis products and have a great experience exploring the city.